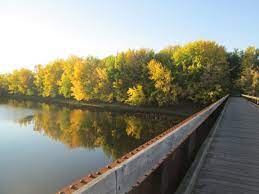 Welcome to Nashwaak Village Baptist Church. We are part of the rural community just north of Fredericton by the banks of the beautiful Nashwaak River. Our church was founded in the 1800's – so we have been here in the community a long time. We have served several generations in the Nashwaak Village community through worship services, children's programs, youth gatherings, and seniors fellowships.
Though the world around us has greatly changed since our founding, our core mission of sharing God's love with those around us has not changed. So we welcome you to join in with any of our programs and services that we offer, no matter what your ethnic background or where you are in your faith journey. Sometimes it is just good to be with other people!
We have both local programs & services and also online programs and services. Check out our listing of both kinds of programs and see where you might like to join in. We would love to get to know you, and have you join in with us.
Pastor Bob has lived around the world. You are welcome to contact him either by phone or email to get further information on our programs.
God bless you
---
LOCATION
Our Location: 1133 Route 8
Nashwaak, York County, New Brunswick, E6C 1L3 Canada
---